While spending a few days at the beach may be the perfect way to spend your summer vacation, it can slow your fitness progress due to the distance it puts you from the gym. Summer spots like Cape Cod are notorious for lacking adequate fitness facilities needed to get a good workout in. Fortunately, there are exercises you can do on the beach to maintain your fitness until you return back to the gym.
There are many benefits to exercising on the beach; besides soaking up some vitamin D, sand massages your feet in a way the gym floor can't. This natural foot therapy relieves muscle tension, stimulates blood circulation, and improves balance. Sand also serves as a softer surface, thus, minimizing the impact on your joints which prevents injuries.
It is important to stay extra hydrated and apply sunscreen while working out in the sun.
Before attempting these body-weight exercises, a warm-up is needed even in the heat as it increases blood flow and flexibility. Try a 5-10 minute jog along the shoreline to get your heart pumping followed by some light stretching.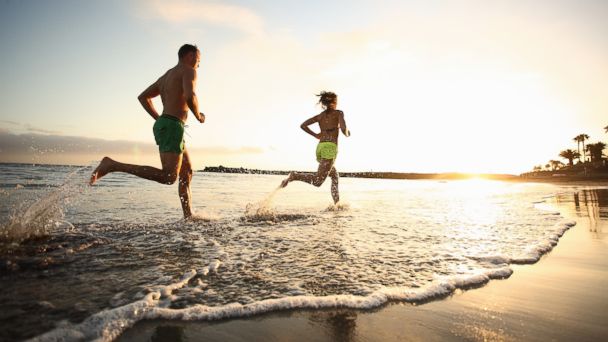 Strength Training
When finished, rest for 3 minutes and repeat cycle 1-2 more times.
20 squats
10 lunges, each leg
10 reverse standing lunges, each leg
20-30 push-ups
40-50 sit-ups
20 toe-raises
20 supermans
30 single leg hip extensions
Cardio
3×10 squat jumps -OR- 5 10 yard sprints
Water Aerobics
If you're feeling adventurous and want to try hitting the water, try these cardio exercises in waist-deep water for 20 yards.
2-3 sets of high knees, butt kicks, frog jumps, and backward running.
Best of Luck and Enjoy the Beach!